The installer portal
Solar installer sales reps can manage all of their Mosaic loan customers in our web portal. It was initially built in a week-long hackathon. In the months that followed, we got the first reps on the platform, watched, and learned. Meanwhile, as we turned our focus to building brand loyalty and driving more home solar loan sales, a truly stellar sales rep experience became even more important.
Making it better
Issues with the UI quickly surfaced. It became clunky and overwhelming as we added more and more sections. Space and navigation were inefficient.
More importantly, I learned about our primary users -- the solar sales reps -- and the stressors they deal with daily and during onboarding. I worked with the leadership, sales, marketing, product, and engineering teams to map out the entire sales rep journey from initial sales training to meeting the customer to closing the loan. Then I collaborated with each team to identify areas of improvement, and optimized everything from the customer-facing marketing collateral to the installer portal and resources.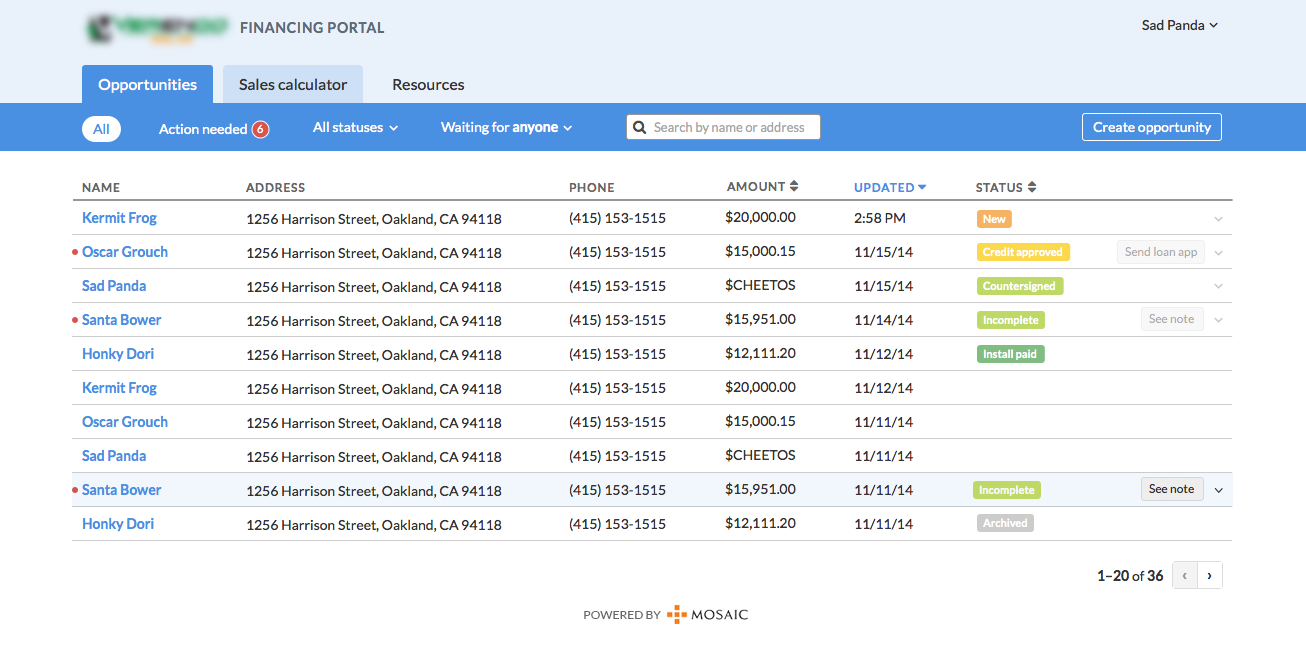 Getting the job done quicker
Turns out sales reps and their managers use this list differently -- so we simplified the list for reps while calling out items that required their attention, and showed a more data-rich view to managers. Reps can now also complete actions directly from this screen rather than having to click into the customer's page.
More helpful, less overwhelming
The status module on the right side floats as you scroll so your next action is always within easy reach. (There are 3 modules in this spec to demonstrate its 3 states.) The sections on the left expand and collapse depending on the opportunity's status, so the content is helpful when needed and out of the way when it's not.
Adapting to the user's context
We discovered that sales reps were often checking in between appointments on the road, and that homeowners were applying for loans from their smartphones at their kitchen table. As a result we made everything responsive.
Help where they need it
All the training materials, downloads, videos and guides in one place. No more digging through email attachments.
A warm welcome
When reps sell their first loan, they're welcomed to the Mosaic family with a handwritten note and branded box of goodies.